Patio Cover Installation in Aurora, Denver & Surrounding Areas
We offer solutions to keep your outdoor living space comfortable & dry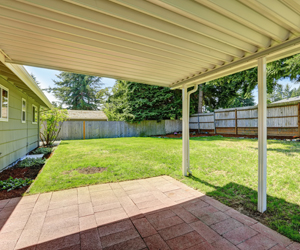 A solid roof covering can provide shade and keep your patio or deck protected from the elements.
Installing a patio cover is the best way to keep your patio cool and dry and give you, even more, use out of your outdoor space. Wimmer Roofing & Exteriors is your local expert for all your installation and repair needs for patio roofs, covered porches, and covered decks. We use the highest-quality products from top-of-the-line manufacturers to make sure that your patio, porch, or deck is exactly what you envisioned.
Patio covers are essential for partial coverage over your patio, protecting it from the elements. This can protect the space below from weather elements, the sun's UV rays, or other damaging factors. This little bit of extra protection and shade can make all the difference.
For expert patio cover installation, contact us at 1-844-603-0414 for a free estimate today. We proudly offer our deck and patio cover solutions to homeowners in Aurora, Denver, Littleton and many surrounding areas.
Benefits of patio, porch & deck covers
Extend the living space of your home
Extra shade will keep your patio cool and usable more hours of the day
Protect outdoor furniture from rain & sun damage
Maintenance-free solutions available
Choosing the right type of roof for your outdoor space
Patio covers are either attached to an existing structure, such as the house or are freestanding. We can construct a patio cover that meets all your needs. Whether you are looking to add a decorative element to your patio or want shelter from sun and rain, we install high-quality roofing systems to create your ideal space.
Wood patio covers
Freestanding patio covers
Gable patio roof
Metal roof patio covers
Aluminum patio covers
Solid roof patio covers
Lattice patio covers
Contact us for your roof installation or repair estimate
If you're looking to add or replace a roof over an existing patio, Wimmer Roofing & Exteriors offers a variety of roofing systems to solve your needs. We are the area's trusted contractor for patio covers, covered porches, and covered decks. By installing the right cover, we can help you get maximum enjoyment from your outdoor space.
Call us at 1-844-603-0414 or contact us online for a free estimate on any of our deck and patio services today. We proudly serve Aurora, Denver, Littleton, Englewood, Centennial, Arvada, Highlands Ranch, Parker, Greeley, Fort Collins and the nearby areas.
Looking for a price? Get a no cost, no obligation free estimate.