Patio Design & Installation in Aurora, Denver & Nearby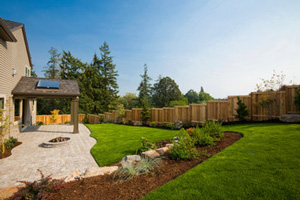 Beauty & performance. Choose from a wide variety of paving options to create a patio that looks great and will provide years of trouble-free service.
Make your CO backyard even better with a custom-built patio
Adding a patio to your house can have a big impact on family fun as well as on home value. Like a deck, a patio effectively extends your home's living space, enabling you to enjoy the outdoors easily and conveniently.
Any improvement made to your home is worth doing right. That's why you'll want to work with Wimmer Roofing & Exteriors to create the patio of your dreams. We appreciate the enjoyment and value you want to bring to your home, and we've got the design and construction experience to accomplish that for you. Call us today at 1-844-603-0414 or click below to get a free estimate in Aurora, Denver, Littleton and the nearby areas!
Our patio installation options
Patios offer some great benefits to any home, including:
Increased home resale value.
Less maintenance than a wood deck.
A vast array of colors, patterns, textures, and patio design options available.
We install patios in a variety of materials and styles. Check out the options below to see what's best for your home!
Concrete Patios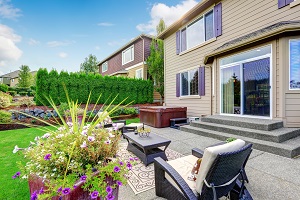 Get the lasting durability and stability of concrete by adding a concrete patio to your outdoor space.
Concrete patios are extremely durable. They can provide additional activity space outdoors and can withstand any weather condition. Although they are very stable, they can succumb to cracking and sloping.
Benefits of concrete patios:
Cost efficient
Weather resistant
Low Maintenance
Environmentally Friendly
Versatile
Pavers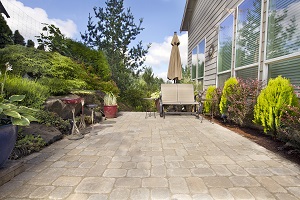 Paver patios are easily fixed when they are in need of repair. Simply replace the broken paver(s) with a new one without damage to the others.
Pavers come in various styles and colors. You can blend different color variations together to achieve any look desired. Pavers are easily replaced, one paver at a time, however, they require proper drainage sloping away from the home's foundation.
Benefits of paver patios:
Aesthetic beauty
Many design options
Easy to repair
Cost efficient
Extremely versatile
Details make a difference
Craftsmanship where it counts. It takes a skilled, well-equipped crew to integrate your patio with adjacent details like pool surrounds, stairways, planters and other landscape elements.

Size, shape & site preparation. We'll size your patio to suit your style, budget and site conditions. Then we'll prepare the area to ensure proper drainage and a solid, stable base for the concrete.
Hardscaping options. Many homeowners want to integrate special features into a patio design: a fountain, a stone wall, a fire pit or perhaps a built-in planter, for example. We've got the design and construction experience to incorporate these special features into your patio design.
Privacy. Including a fence in your patio design enables you to control views and also limit noise from the street or neighboring yards. We'll help you select a fence that achieves your privacy and style goals.
Electrical outlets & lighting. Light and electricity shouldn't be afterthoughts in a patio project. We'll work with you to ensure that planned activities (outdoor cooking, eating, and lounging) are served by well-placed outlets and light fixtures.
Let Wimmer Roofing & Exteriors help bring your dream patio to life
To get your free patio installation estimate from Wimmer Roofing & Exteriors, call us at 1-844-603-0414 or contact us online today! We design and install quality decks and patios in Aurora, Denver, Littleton, Centennial, Englewood, Highlands Ranch, Arvada, Greeley, Fort Collins, Parker, and throughout the nearby areas.
Looking for a price? Get a no cost, no obligation free estimate.