Deck Restore & Repair Services in Greater Denver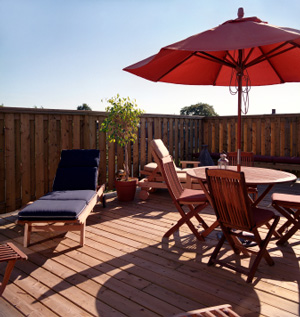 Enjoy a safe, beautiful deck. Over time, decks sustain some normal wear and tear. With the proper maintenance and repairs, you will be able to enjoy your deck for many years to come.
You may find that your deck is suffering from a number of problems: loose boards, water damage, and mildew, to name a few.
No matter what the problem, you can count on Wimmer Roofing & Exteriors to completely restore your deck. After our experts get done, you will be able to enjoy your outdoor space once again!
Our technicians will inspect your deck and make the necessary repairs, along with staining and sealing.
If your deck is beyond repair, Wimmer Roofing & Exteriors can take care of new deck installation. There's no need to call multiple contractors.
Give us a call at 1-844-603-0414 or contact us online for an estimate for complete deck repair and restoration! We serve Denver, Aurora, Littleton and many areas of Colorado.
When you hire our company to repair your deck, we will:
Check for loosened nails and other fasteners, and reinstall or replace them with galvanized or stainless steel deck screws that are made to withstand the elements.
Reinforce loose deck and stair railings, sand splintered areas, and plane raised board edges smooth. We'll also replace rotted or cupped deck boards.
Check that the deck, especially a high one, has not pulled away from the house. The point of connection, the ledger board, should be securely fastened to the house framing.
Clean debris accumulations from between deck boards. Doing so will promote better drainage, stop the rot, and reduce mildew.
Clean decking with a biodegradable detergent and a pressure washer. We will set the pressure low enough to avoid any splintering of the decking surface.
Refinish wood decking with semi-transparent or solid stains, or with deck or porch paint. Note: This doesn't need to be done every year. Every two or three years is fine.
Prune or remove excess vegetation that's growing around the deck to promote better air circulation and prevent the growth of mold and mildew.
Wimmer Roofing & Exteriors suggests sweeping dirt and debris from your deck regularly to help protect deck boards. Otherwise, grit will get underfoot and wear off the deck's finish, revealing unsightly traffic patterns.
Free Estimate for deck repair and restoration in Denver & nearby
If your deck has popped nails, damaged boards, or fading and discoloration, you've come to the right place. Most of the time, even the most unfortunate-looking deck can be restored.
Contact Wimmer Roofing & Exteriors today to schedule an appointment with one of our home improvement experts. We will come out and inspect your deck and decide on the proper repairs.
Our deck repair and deck design services are available throughout Greater Denver. We provide no-obligation estimates to residents of Littleton, Denver, Aurora, Arvada, Centennial, Englewood, Parker, Greeley, Fort Collins, Highlands Ranch and the surrounding area.
Looking for a price? Get a no cost, no obligation free estimate.